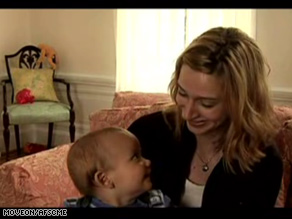 From a MoveOn/AFSCME ad launched Tuesday.
(CNN) - Two major liberal political action committees are launching a new spot that attacks John McCain's foreign policy judgment, one of his biggest perceived strengths.
MoveOn.org and the American Federation of State, County and Municipal Employees - who had been on opposite sides of the primary fight between Hillary Clinton and Barack Obama - jointly launched the 30-second spot Wednesday on national cable and in key Midwestern swing states, with a buy of more than half a million dollars.
WATCH the new MoveOn/AFSCME ad
"Hi, John McCain. This is Alex. And he's my first," says a woman in the ad, as she holds an infant in her arms. "So far his talents include trying any new food and chasing after our dog. That, and making my heart pound every time I look at him. And so, John McCain, when you say you would stay in Iraq for 100 years, were you counting on Alex? Because if you were, you can't have him."
The Republican National Committee blasted the ad Tuesday. "MoveOn.org was wrong to smear General Petraeus, just like Barack Obama was wrong to not go to Iraq to meet with him. America cannot afford a Commander in Chief who listens to partisan groups like MoveOn.org instead of our commanders," said RNC spokesman Alex Conant. "Bringing peace and security to Iraq will require a Commander in Chief who won't allow partisanship to cloud his judgment."
A MoveOn staffer said the timing of the ad was influenced by McCain's ad last week in which the senator said he hated war. "He's out there all alone on this issue," said the aide. The "100 years" comment has been a favored theme of anti-McCain advertising by third-party groups so far this cycle.
Obama, who does not accept PAC contributions, has said publicly that he does not want third-party groups airing ads on his behalf – but directed that request at groups that accept unlimited donations. Contributions to political action committees are limited under federal campaign finance regulations.