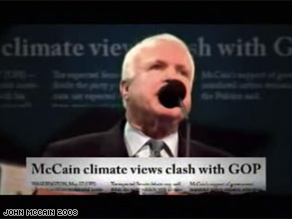 Sen. McCain's new TV ad points out his differences with Pres. Bush over climate change.
(CNN) – Sen. John McCain, the Republican Party's presumptive presidential nominee, is launching a new television ad Tuesday. Titled "Global," the ad touts McCain's differences with the Bush administration over global warming.
WATCH McCain's new ad "Global"
"John McCain stood up to the President and sounded the alarm on global warming five years ago. Today, he has a realistic plan that will curb greenhouse gas emissions," an announcer says in the ad. The 30-second spot also says that McCain's plan "will help grow our economy and protect our environment."
The advertisement will air "in key battleground states and on national cable," the McCain campaign said Tuesday morning in a statement announcing the ad.
The ad is being released the same day McCain is set to give a speech on energy policy in Houston. During the address, McCain will propose lifting the federal moratorium on offshore drilling for oil. McCain's proposal would then allow individual states to decide whether to allow drilling off their coasts.
UPDATE: McCain's new "Global" ad is "universally misleading," the Democratic National Committee said in a press release issued Tuesday afternoon.