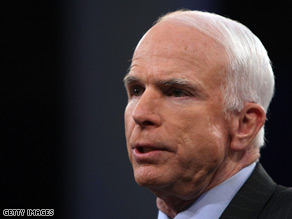 (CNN) – McCain foreign policy advisors hit Barack Obama for remarks he made Monday about putting terrorists on trial, saying in a Tuesday conference call that the Illinois senator is "the perfect manifestation of the September 10 mindset."
A short while later, the Obama camp responded with a conference call of their own, on which Sen. John Kerry shot back, "If you want to talk about going backwards and adopting a policy that is retro, I think John McCain has articulated it about as clearly as it could be."
In an interview with ABC News's Jake Tapper that aired Monday night, Obama said, "Let's take the example of Guantanamo. What we know is that, in previous terrorist attacks – for example, the first attack against the World Trade Center, we were able to arrest those responsible, put them on trial."
"The fact that the administration has not tried to do that has created a situation where not only have we never actually put many of these folks on trial, but we have destroyed our credibility when it comes to rule of law all around the world, and given a huge boost to terrorist recruitment…" he added.
McCain senior advisor Randy Scheunemann called Obama's arguments "a policy of delusion."
"These [terrorists] aren't just your run of the mill drug dealers that are picked up on the South Side of Chicago," said Scheunemann, referencing Obama's Chicago roots.
Obama advisor Richard Clarke defended the Obama's call for trials as part of a larger comprehensive strategy. Kerry blasted McCain and his campaign for using a "Karl Rove strategy" and "fraudulent fear tactic."
Asked if Habaes Corpus rights would extend to Osama Bin Laden if captured and sent to Guantanamo, Kerry answered that the Supreme Court has ruled that everyone at Guantanamo has the right to be tried, regardless of who's president.
"One of the tools in our arsenal with respect to America's credibility in the world and our ability to fight a war on terror is to maintain the high moral ground with respect to that war," said Kerry. "One of the ways you do that is to try people and try them publicly and prove that your justice system and your constitution and democracy actually work. You can't sell democracy around the world and short change it at home. "