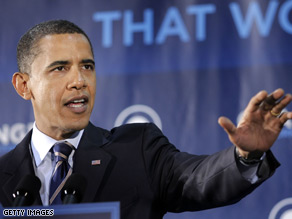 Sen. Obama plans to visit Iraq before the November Election.
(CNN) – A day after his Republican counterpart sat down with visiting Iraqi foreign minister Hoshyar Zebari, Barack Obama spoke with him by phone from Chicago Monday morning and told him that he looked forward to seeing him in Baghdad before November.
"I emphasized to him how encouraged I was by the reductions in violence in Iraq, but also insisted that it is important for us to begin the process of withdrawing US troops, making clear that we have no interest in permanent bases in Iraq," Obama told reporters upon landing in Michigan for a two-day swing through the state.
The Illinois senator misspoke when he argued that Zebari and "President Maliki" are concerned about Iraq's sovereignty and are not seeking a long-term occupation by the United States. Jalal al-Talabani is the president of Iraq, Nouri al-Maliki is the prime minister.
"I gave [Zebari] an assurance that should we be elected, an Obama administration will make sure that we continue with the progress that's been made in Iraq, that we won't act precipitously," said Obama.
Obama said Zebari did not express concern about a withdrawal of American troops, saying, "He did emphasize his belief that we've made real progress and I think was eager to see political accommodations between the factions follow up in the wake of this progress."
At about the same time Obama was speaking to his traveling press corps, McCain told reporters at a press conference at his Arlington, Virginia headquarters that Obama "is now is closing in on his 900th day since he visited Iraq."
"The whole debate in this campaign should be about whether we're going to allow that surge to continue to succeed or we're again going to do what Sen. Obama wanted to do and that is to set date for withdrawal long ago without giving the surge a chance to succeed," said McCain, again criticizing Obama for not meeting directly with Gen. David Petraeus.
"I don't know how you can draw conclusions such as Senator Obama has without even sitting down and talking with our commander on the ground," he added.
Obama would not specify when he plans to visit Iraq but said it would be before Election Day, and that he would like to visit Afghanistan as well.