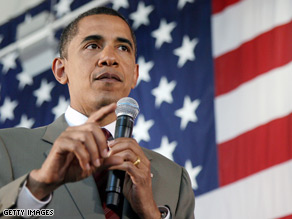 WASHINGTON (CNN)– Barack Obama turns his attention to national security today, as he meets with a group of senior Democrats who are veterans when it comes to foreign policy and national security.
Obama's Campaign says that the Senator from Illinois will hold his first meeting of his Senior Working Group on National Security. The campaign says that the presumptive Democratic presidential nominee will consult with this group on a regular basis between now and the November election.
WATCH Obama discuss his view on foreign policy
Later today Obama is scheduled to gather with a a group of nearly 40 retired admirals and generals to discuss the state of the nation's armed forces and the challenges facing the US military in hot spots around the world.
Among the names in this Senior Working Group are four Clinton Administration Cabinet members: former Secretaries of State Madeleine Albright and Warren Christopher, former Defense Secretary William Perry, and former National Security Adviser Tony Lake.
Also included in this group are former Senators Sam Nunn, who chaired the Senate Armed Services Committee and David Boren, who chaired the Senate Select Committee on Intelligence, and former Congressman Lee Hamilton, who chaired the House Foreign Affairs Committee.
Obama is critical of the Bush Administration when it comes to national security, telling reporters yesterday that "I think that the American people are clear that we have neglected our domestic national security."