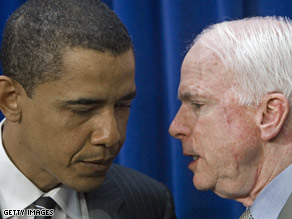 Sens. Obama and McCain talked during a Capitol Hill press conference in this 2006 file photo.
WASHINGTON (CNN) - John McCain's campaign is denying an account by staffers on Barack Obama's team that the rival campaigns had been involved in discussions over whether or not they would accept public funds.
Obama counsel Bob Bauer said Thursday he had met with Trevor Potter, his counterpart on the McCain team, on June 6 to discuss a possible joint townhall appearance later in the month, and that the two discussed the public funding issue for 45 minutes.
"I asked him to address a [series] of issues of concern to the Obama campaign–the McCain campaign's active raising and spending of private money since February for a general election campaign, including for media, while we were still in the middle of a primary contest," said Bauer in a statement. "He gave me his perspectives–the best arguments he could offer for an agreement on both sides to accept public financing–and it was clear to me that these offered no basis for any further exchange."
McCain spokeswoman Jill Hazelbaker flatly said Thursday that Bauer "never negotiated with Potter about public financing."
Others in the McCain camp said that Obama's staffers are "libeling" their attorney, and lying about the discussion – that the two counsels were meeting on a separate topic entirely, and that there were no negotiations on public finance.
(UPDATED with response from the McCain campaign, after the jump)

UPDATE: Trevor Potter disputed the Obama campaign's account, telling CNN Thursday that he had met with Bauer on a completely unrelated subject, and that campaign financing had only been discussed in an abstract way.
"We then spoke in general terms about the public financing system, with Bob outlining reasons it could be considered 'broken' or irrelevant in 2008, and I explaining why Sen. McCain remained committed to it and thought it was good for the country," said Potter.
"Other than this informal discussion, there have been no contacts between the two campaigns on the subject, and this discussion contained no negotiations or even offer to hold negotiations. I cannot begin to explain how the Obama campaign could twist my reiteration of Sen. McCain's support of the system, and hope the two candidates would participate in it, into what they said today," he added
"...An attempt to imply otherwise by any representative of the Obama campaign (and an attempt to turn an informal conversation between Bob Bauer and me into a discussion of negotiations between the campaigns) is a complete misrepresentation of the facts"