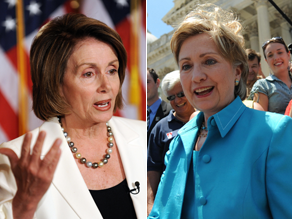 Pelosi says she thinks Clinton may run again.
(CNN) - Is Hillary Clinton done with presidential politics?
House Speaker Nancy Pelosi doesn't appear to think so.
The California Democrat suggested Tuesday that the former Democratic presidential candidate may yet mount another run for the White House.
"I think her candidacy was a just a bright, bright moment for us and she may run again," Pelosi said at a breakfast with reporters organized by the Christian Science Monitor.
Pelosi also appeared hesitant to blame sexism on Clinton's loss to Sen. Barack Obama in the prolonged race for the party's presidential nomination. Clinton, along with several of her supporters, have suggested sexist attitudes among members of the media contributed to the New York senator's eventual loss.

Watch: Pelosi on the Obama effect
"Sen. Clinton has advanced the cause of women in government and her candidacy has been a very positive tonic for the country and had a very wholesome effect on the political process," Pelosi said. "I really don't know, I haven't analyzed and the rest, I'm a victim of sexism myself all the time, but I just think it goes with the territory, I don't sit around to say, 'but for that."
Pelosi largely stayed on the sidelines during the lengthy Democratic presidential race, though she angered many Clinton supporters earlier in the campaign season after stating the party's superdelegates should not vote against the pledged-delegate winner. Many supporters of the New York senator took those comments to be an implicit endorsement of Obama, given it was clear at the time he would finish ahead in that count.
Several Clinton supporters were also upset with Pelosi after she repeatedly stated Obama and Clinton should not team up on the same ticket.
"I don't think it's a good idea," she told CNN's Larry King in late April of a joint ticket. "First of all, the candidate, whoever he or she may be, should choose his or her own vice presidential candidate. I think that's appropriate. That's where you would see the comfort level, not only how to run but how to govern the country. And there's plenty of talent to go around to draw upon for a good, strong ticket. I'm not one of those who thinks that that's a good ticket."