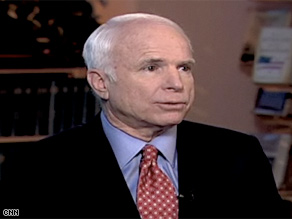 Sen. John McCain's campaign nicknamed Obama 'Dr. No' Tuesday.
(CNN) – In the ongoing back-and-forth between John McCain and Barack Obama over energy policy, the Arizona senator's campaign gave Obama a new nickname on Tuesday – Dr. No.
"It's just very clear at this point that Senator Obama is Dr. No on energy security," McCain spokesman Brian Rogers said on a conference call with reporters. "Today it was 'no' on the $300 million for a new kind of battery. Before it was 'no' on further exploration or possibility of further exploration of our coasts. It was 'no' on gas tax relief that can help this summer families that are hurting. It's 'no' on expanded nuclear power investments that we can make."
"So, we think we're seeing a pattern here," Rogers concluded.
Watch: McCain discusses his energy plan
On Capitol Hill, Sen. Lamar Alexander, R-Tennessee, echoed the list of energy initiatives Obama has disagreed with, adding, "It's a new law we might call Obamanomics. It would repeal half the law of supply and demand."
Earlier in Las Vegas, Obama called McCain's $300 million prize for a car battery that would "leapfrog" current electrically-powered cars a "gimmick," a word he often uses to describe McCain's summer gas tax holiday proposal.
"I commend him for his desire to accelerate the search for a battery that can power the cars of the future," said Obama. "But I don't think that a $300 million prize is the way to go."
He added, "When John F. Kennedy decided that we were going to put a man on the moon, he didn't put a bounty out for some rocket scientist to win. He put the full resources of the United States government behind the project and called on the ingenuity and innovation of the American people."
Obama also went after McCain for admitting Monday that offshore drilling might not provide immediate relief but would have a "psychological impact that I think is beneficial."
"In case you're wondering, in Washington-speak what that means is, 'It polls well,'" he said. "It's an example of how Washington politicians try to convince you that they did something to make your life better when they really didn't."