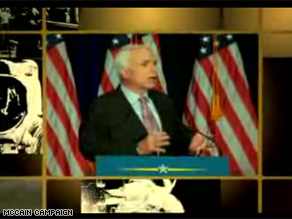 McCain's campaign released its latest ad Friday called 'Purpose'.
(CNN)— John McCain's presidential campaign released its latest ad Friday coinciding with the week long push to highlight the Arizona senator's dedication to the United States.
The 30-second spot, called "Purpose," centers around McCain's plans to achieve energy independence by 2025, stressing his strategy to lower gas prices, reduce dependence on foreign oil, and create energy alternatives.
It also seeks to draw parallels between achieving energy independence and some of America's past monumental accomplishments.
"We went to the moon, not because it was easy, but because it was hard" The announcer says as 1960's-esque photos of space exploration appear on the screen.
"John McCain will call America to our next national purpose: Energy Security," the announcer says.
"Putting country first, McCain." The announcer concludes.
The ad is set to air in key battleground states of: Nevada, New Hampshire, Colorado, Missouri, New Mexico, Michigan, Minnesota, Wisconnsin, Pennsylvania, Ohio, Iowa and on national cable. The campaign would not release the specific size of the buy, but did say it was "large."