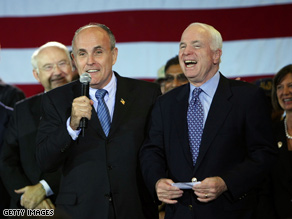 Giuliani endorsed McCain after ending his own presidential campaign.
Mayor Rudy Giuliani, former presidential candidate turned McCain supporter, will be a guest today in "The Situation Room" and you can be a part of the interview. Does Mayor Giuliani agree with Sen. Lieberman that the next president will be tested early by a terrorist attack? Why does he think Sen. McCain will be a better president than Sen. Obama?
Send us your questions for Mayor Giuliani on video, and be sure to keep them clear and concise. Your videos could be used on air - and your views a part of the best political team on TV.