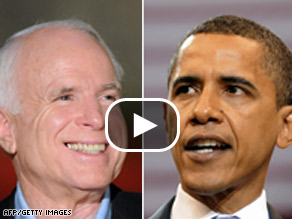 Watch as CNN's Paul Steinhauser takes a look at what's happening this week on the campaign trail.
WASHINGTON (CNN) - Sens. John McCain and Barack Obama have a busy week ahead as they court voters across the country.
Both candidates are making their pitch to a top Latino organization in Washington on Tuesday. This week also finds McCain pushing his plan to create new jobs. He'll be touting his proposal in some of the key battleground states.
Obama starts his week in two red states he hopes to turn blue - Georgia and North Carolina. Later in the week, he'll team up with Hillary Clinton for three fundraisers in New York, an Obama spokeswoman said.
Two of the fundraisers are aimed at raising money for Obama's Democratic presidential campaign, and one to try to retire the debt from Clinton's failed effort to win the nomination.