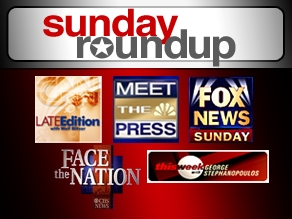 (CNN) - A roundup of quotes from the Sunday political talk shows, as compiled by the CNN Wire:
On the candidates' Iraq strategies:
"I think what's significant about what's happened in the last week - frankly, in the last month, since Senator Obama clinched the nomination - is how many big positions - Iraq, Iran, free trade, the death penalty - that Senator Obama has ... altered his position on.
"On Iraq, John McCain has been right and consistent, and Senator Obama has been wrong."
–Sen. Joe Lieberman, Independent from Connecticut, on ABC's "This Week"
"The Republicans, and John McCain specifically, are trying desperately to get away from the reality of John McCain's position, which is that he has a plan for staying in Iraq and Barack Obama has a plan for getting out of Iraq... (Obama's position) is no change whatsoever in his fundamental determination to end the war."
–Sen. John Kerry, D-Massachusetts, on CBS' "Face the Nation"
"We're winning because John McCain understood Iraq better than anybody else. The surge has worked. The political, economic and military progress in Iraq is undeniable... The only way we can lose this war now is to go down the road that Obama suggests."
–Sen. Lindsey Graham, R-South Carolina, on "Face the Nation"
"I think Senator McCain has not been consistently right. He's been fundamentally wrong on the strategy."
–Sen. Jack Reed, D-Rhode Island, on "This Week"
Bob Barr, on his presidential candidacy as a Libertarian:
"The nanny state is right up there behind you. It's Capitol Hill. It's the White House. It's all these federal buildings around here that are adding trillions of dollars over the years to the cost of doing business, the cost of educating children, the cost of traveling in this country. It is a federal government that has become so big that it has stifled individual liberty and freedom in this country. And Americans realize that."
–on ABC's "This Week,"