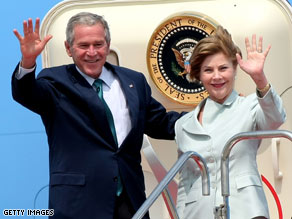 President Bush celebrated his birthday on Air Force One with first lady Laura Bush and White House staff members.
HOKKAIDO, Japan (CNN) - It was a birthday celebration in the skies, as President Bush turned 62 aboard Air Force One while en route to Japan where Bush is attending the summit of the Group of Eight industrialized nations.
First Lady Laura Bush and White House staff members gathered in the conference room on Air Force One late Saturday night eastern time, where a steward dimmed the lights as the crowd waited for the birthday celebrant to arrive, White House Press Secretary Dana Perino said.
On the table was a "large" coconut cake with a single burning candle and the words "Happy Birthday President Bush" on it.
The crowd called out "surprise" as President Bush walked into the room and then sang Happy Birthday, Perino said.
Bush "dutifully pretended to be surprised" and blew out the candle, Perino said. It was not known whether he made a birthday wish.
After cutting and serving the cake, the health-conscious president ate a "small" piece of birthday cake, she said.
There was no word on what he gifts he received from family members, but Perino noted the president was sporting a new teal-colored tie.
White House staffers presented Bush with birthday notes and cards - well-wishes delivered in a small wooden box with his initials carved on top.
The box was carved by a Texas woodworker with wood from an old Scarlett Oak tree that grace the north lawn of the White House until it fell last year.
The tree was planted in 1892 by the great granddaughter of President Benjamin Harrison, according to Perino.