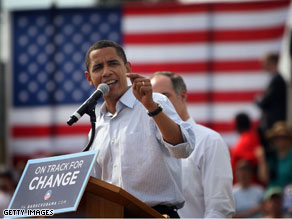 The Obama campaign is launching a new evangelical initiative.
WASHINGTON (CNN) – A conservative Christian activist group said Monday that it is dropping plans to sue Barack Obama's presidential campaign over the name of its new program aimed at courting evangelical and Catholic young people because the campaign has told them it will re-name the initiative.
The Obama campaign did not immediately confirm the move.
The Home School Legal Defense Association, which launched grassroots group "Generation Joshua" in 2004, sent the Obama campaign a cease-and-desist letter last month over the decision to call its own outreach effort to evangelical young people - which includes blogs, concerts, and house parties - the "Joshua Generation Project."
"Generation Joshua" provided heavy grassroots assistance in key swing states for President Bush's re-election effort last cycle. Founder and conservative activist Michael Farris also authored a 2005 book that included the words in its title.
"We're pleased the Obama campaign has acknowledged our trademark rights," Farris said in a statement released Monday.
The name is drawn from the biblical account of how Joshua's generation, which followed the one that fled Egypt with Moses, led the Israelites into the Promised Land. Obama referenced the story in a 2007 speech.