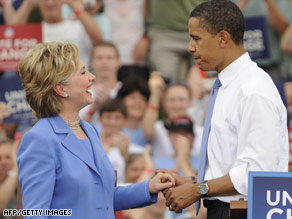 Once fierce rivals, Sens. Hillary Clinton and Barack Obama stand together in June in Unity, New Hampshire.
(CNN) - Sens. Barack Obama and Hillary Clinton team up again Wednesday, but not all Clinton's supporters are jumping on the Obama bandwagon despite her calls for unity.
Two fundraisers are scheduled Wednesday in New York and a third on Thursday, making it five times the two have appeared together since Clinton ended her quest for the Democratic presidential nomination last month.
Two of the events are aimed at raising money for Obama's campaign, and one is to help Clinton retire the debt from her failed run.
The joint appearances have been choreographed carefully to produce pictures of the former rivals standing side by side in an effort to help move beyond the bitterness of the hard-fought Democratic primary.
But for some of Clinton's top supporters, it's going to take more than just encouragement from the former first lady to get them to open their wallets and hearts to Obama.