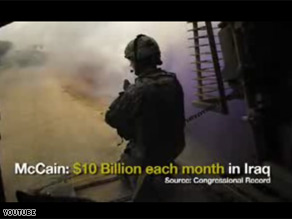 The AFL-CIO will launch a new ad Thursday.
(CNN)— The AFL-CIO will go on the air Thursday with its first television ad aimed at union veterans who might be tempted to support fellow vet John McCain, the presumptive Republican nominee.
"Every vet respects John McCain's war record," says Navy veteran and union electrician Jim Wasser of Illinois. "It's his record in the senate that I have a problem with. He wants us to keep spending $10 billion dollars in Iraq, just like Bush."
The 30-second ad, 'Not now,' is set to air for three weeks in the battleground states of Michigan, Minnesota, Ohio, Pennsylvania, Virginia and Wisconsin.
AFL-CIO spokesman Steve Smith said the size of the labor organization's buy is "significant."
This is the labor organization's first ad since officially endorsing presumptive Democratic nominee Barack Obama for president late last month. The buy — and its newly-launched Union Veterans Council - will go head-to-head with ads from grassroots organization Vets for Freedom; the group, which launched a four-month election effort on the Fourth of July, supports the war in Iraq.