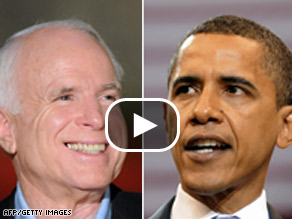 Watch what's ahead on the campaign trail.
(CNN) - Sens. Barack Obama and John McCain are starting the week with an outreach to two crucial voting blocs - Hispanic and African-American voters.
Both candidates are speaking before the National Council of La Raza, one of the country's largest Hispanic organizations. Obama addresses the group on Sunday in San Diego, California, and McCain delivers his speech Monday.
The event marks the last of three major Hispanic and Latino organizations the candidates are appearing before this summer.
Both candidates last week spoke to LULAC, the League of United Latin American Citizens.
Previously, the two spoke at the annual conference of NALEO, the National Association of Latino Elected and Appointed Officials.
As many as 9 to 10 million Latinos could cast ballots in the fall, and Hispanic voters could swing some important battleground states such as Florida.
Recent polls show Obama leading McCain by a 2-to-1 ratio among Hispanic voters.