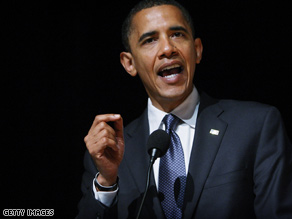 Sen. Barack Obama's campaign announced last month that he plans to visit Germany.
SAN DIEGO, California (CNN) – Flying to California Saturday night, Barack Obama told reporters he "didn't have a particular site in mind" for an upcoming speech in Germany and he doesn't "want the negative to be a distraction."
He was responding to reports in the German press in recent weeks that he wants to speak at the country's famous Brandenburg Gate – the site of President Ronald Reagan's "Tear down this wall" speech – during his forthcoming trip to Europe and the Middle East.
The reports started a fierce debate in Germany about the possible perception of a candidate campaigning at a national and international monument.
"I want to make sure that my message is heard as opposed to creating a controversy," Obama said. "Our goal is just for me to lay out how I think about the next administration's role and rebuilding our transatlantic alliance."
"What I want to do is just work with folks on the ground to find some place that's appropriate," he added.
Obama has also announced plans to visit Iraq and Afghanistan and said he'd be traveling with Sens. Chuck Hagel and Jack Reed to Iraq as part of a congressional delegation – or CODEL. Obama called the senators "experts in foreign policy" and praised them for "a traditional bipartisan wisdom when it comes to foreign policy."
Asked if he would discuss his plans to withdraw American troops from Iraq with Iraqi Prime Minister Nouri al-Maliki in light of Maliki's recent call for a timetable for withdrawal, Obama said he wasn't going there to negotiate or make promises.
"I am there to listen," answered Obama before adding that his position "is now a position that is also held by the Iraqi government itself."