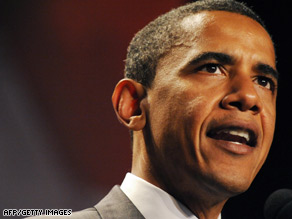 Barack Obama says he does not worry about coming off as too preachy in his speeches.
SAN DIEGO, California (CNN) – Barack Obama says he hasn't spoken to Rev. Jesse Jackson since the pastor was caught by an open mic saying that Obama is "talking down to black people," and using a vulgar expression to vent his feelings about the candidate.
"I had spoken to him before, a few days before," Obama told a gaggle of reporters aboard his campaign plane, "and we had actually discussed some of the concerns he had raised about my fatherhood speech."
Obama spoke at an African-American church on Father's Day and took black absentee fathers to task for shirking their responsibilities.
"I told [Jackson] that I absolutely believe that we have structural inequalities in this country that have to be dealt with," said Obama. "We also have to recognize that there is a particular problem when more than a half of African-American children are growing up without a father in the house and often times not even knowing their father."
"That is a problem and I won't back up one bit in asserting that that's a problem that we have to be honest about," he added.
Asked how Jackson replied, Obama told CNN, "I think it would be hard for him to disagree with that since many of the things I have said are the things that he has said in the past."
When a reporter remarked that bad fathering isn't something that can be fixed by a federal policy, Obama responded that his June speech sparked a conversation and has given him "something of a bully pulpit."
"I do think part of the role of president is to offer his or her opinions about critical issues, not all of which can be solved by government, but make a big difference in the quality of our society. That doesn't mean that we're going to solve these problems overnight, but I'd like to think that if a president says that something's important, that some people might pay some attention."
But does he worry about coming off as too preachy?
"No."