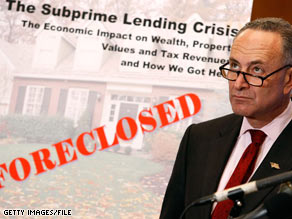 Sen. Charles Schumer said the OTS 'ought to stop pointing false fingers of blame.'
NEW YORK (CNN) - Sen. Charles Schumer said Sunday the Bush administration is trying to "blame the fire on the person who calls 911" by suggesting he had a role in one of the costliest U.S. bank failures.
Federal regulators with the Office of Thrift Supervision were "asleep at the switch" when it came to IndyMac's "reckless" behavior, the New York Democrat complained.
The OTS announced Friday that it was taking over the $32 billion IndyMac and transferring control to the Federal Deposit Insurance Corporation.
The OTS pointed the finger directly at Schumer for the failure, accusing him of sparking a bank run by releasing a letter that "expressed concerns about IndyMac's viability."
"In the following 11 business days, depositors withdrew more than $1.3 billion from their accounts," the OTS said in a statement announcing the California-based lender's takeover on Friday.
The statement included a quote from OTS Director John Reich saying, "Although this institution was already in distress, I am troubled by any interference in the regulatory process."
Schumer, a member of the Senate Banking Committee, chairman of Congress' Joint Economic Committee and the third-ranking Democrat in the Senate, rejected any suggestions of responsibility for IndyMac's collapse.