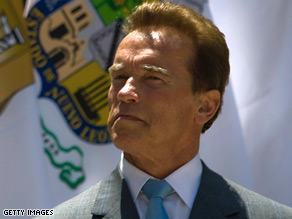 Gov. Schwarzenegger said he would consider a cabinet position if Obama offered one.
(CNN)—California Governor Arnold Schwarzenegger, who endorsed John McCain's presidential run before his state's February primary, said Sunday he would consider accepting an energy-related cabinet position from Democrat Barack Obama if the offer were extended.
"I'm always ready to help in anyway I can," the California Republican told ABC's George Stephanopoulos, describing himself as a committed public servant. "I'd take his call now, and I'd take his call when he's president anytime."
The former box office star-turned-politician said he is through with his days acting and body building, and plans to travel the world promoting energy independence after leaving the governor's mansion, whether or not he joins the next administration.
California, a predominantly Democratic state, is thought by some analysts to be somewhat of a long-shot for McCain in November. But Schwarzenegger encouraged the presumptive Republican nominee to continue to campaigning, telling ABC that one in five California voters are swing or independent voters.
Schwarzenegger also defended Obama from recent accusations that he is shifting his positions since effectively claiming the Democratic nomination. "Flip-flopping is getting a bad rap," said the California governor, adding that he expects both presumptive nominees to move toward the center now that the primaries have ended.
"As long as he's honest or she's honest, I think that [changing your mind] is a wonderful thing," said Schwarzenegger. "I've changed my mind on things and it is nothing wrong with it, but I just say to the people I once thought this way now I think this way. End of story."