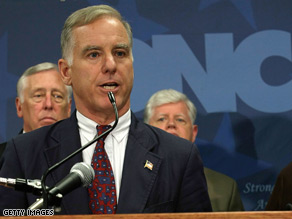 Dean will travel across the country to encourage new voter registration.
(CNN)—Democratic National Committee Chairman Howard Dean is set to embark on a cross-country voter registration tour this Thursday.
The bus tour, called "Register for Change,' will act as a mobile campaign office as the party seeks to build upon the record voter turnout during the primary season.
The tour kicks off in President Bush's hometown of Crawford, Texas and coincides with the DNC's 50-state strategy to hold forums across the country.
"People are really struggling," Dean said. "They want different leadership, not more of the same failed Bush policies that John McCain will continue."
From Texas the tour will continue on to stops in Louisiana and Mississippi where Dean will meet with local leaders and go neighborhood-to-neighborhood registering new voters and encouraging previously registered voters to unit around Barack Obama's "strong message of change."
The DNC says the tour will travel every part of the country, coming to a close at the party's convention in Denver at the end of August.