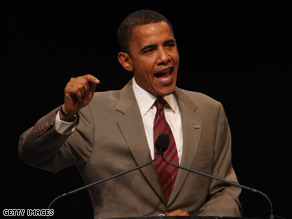 Barack Obama says the war in Iraq has been a distraction.
WASHINGTON (CNN) - Barack Obama says that the war in Iraq has become a dangerous distraction and that if elected president, he would deal with the dangerous threats facing the country.
The Senator from Illinois and presumptive Democratic presidential nominee is expected make those comments when he gives a policy address on Iraq and Afghanistan and national security at the International Trade Center here in the nation's capital, in what his campaign calls a major speech.
Watch: Obama stands by his Iraq plan
"This war distracts us from every threat that we face and so many opportunities we could seize. This war diminishes our security, our standing in the world, our military, our economy, and the resources that we need to confront the challenges of the 21st century. By any measure, our single-minded and open-ended focus on Iraq is not a sound strategy for keeping America safe," Obama says in excerpts released by his campaign.
"Instead of being distracted from the most pressing threats that we face, I want to overcome them. Instead of pushing the entire burden of our foreign policy on to the brave men and women of our military, I want to use all elements of American power to keep us safe, and prosperous, and free. Instead of alienating ourselves from the world, I want America – once again – to lead," adds Obama.
Obama will also repeat again that ending the war in Iraq and removing U.S. combat troops from that country remains a top priority.
Watch: Obama's Iraq dilemma
"As president, I will pursue a tough, smart and principled national security strategy – one that recognizes that we have interests not just in Baghdad, but in Kandahar and Karachi, in Tokyo and London, in Beijing and Berlin. I will focus this strategy on five goals essential to making America safer: ending the war in Iraq responsibly; finishing the fight against al Qaeda and the Taliban; securing all nuclear weapons and materials from terrorists and rogue states; achieving true energy security; and rebuilding our alliances to meet the challenges of the 21st century," says Obama.
John McCain is also speaking out today on the war in Iraq. The senator from Arizona and presumptive Republican presidential nominee is expected to start a town hall in Albuquerque, New Mexico today, that starts just minutes after Obama's speech is scheduled to end, with a rebuttal.
"Senator Obama is departing soon on a trip abroad that will include a fact-finding mission to Iraq and Afghanistan. And I note that he is speaking today about his plans for Iraq and Afghanistan before he has even left, before he has talked to General Petraeus, before he has seen the progress in Iraq, and before he has set foot in Afghanistan for the first time. In my experience, fact-finding missions usually work best the other way around: first you assess the facts on the ground, then you present a new strategy," says McCain in an excerpt released by his campaign.
Watch: McCain says Obama is shifting his Iraq stance
A new ABC/Washington Post poll shows that Americans are split between Obama's proposed timetable to withdraw most U.S. forces from Iraq within 16 months of taking office, and McCain's plans to oppose a specific timetable.
In his speech today, Obama will also say that more emphasis should be place on the battle in Afghanistan.
"In fact – as should have been apparent to President Bush and Senator McCain – the central front in the war on terror is not Iraq, and it never was. That's why the second goal of my new strategy will be taking the fight to al Qaeda in Afghanistan and Pakistan.," says Obama.
Obama is expected to see the situation on the ground in Iraq and Afghanistan this summer as part of a Congressional codel.