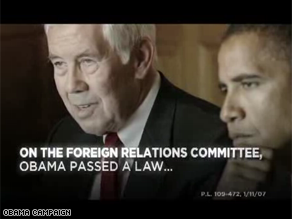 Obama is highlighting his work with Sen. Lugar in a new ad.
(CNN) - On the same day Barack Obama is set to deliver a major address on his Iraq policy, the Illinois senator has released a new campaign ad promoting his bipartisan efforts in foreign policy.
In the new 30-second spot called "America's Leadership," Obama highlights his work with Republican Sen. Dick Lugar seeking to stop terrorist smuggling of loose nuclear weapons.
"The single most important national security threat that we face is nuclear weapons falling into the hands of terrorists," Obama says in the ad. "What I did was reach out to Senator Dick Lugar, a Republican, to help lock down loose nuclear weapons. We have to lead the entire world to reduce that threat."
The two senators developed a working relationship after Obama praised Lugar's nuclear nonproliferation legacy on the campaign trail in 2004. The Indiana Republican later suggested the newly-elected Obama try for a seat on the Senate's Foreign Relations Committee, which he then chaired.
The ad is running in an 18 states, including the traditional Republican strongholds of Alaska, Georgia, Indiana, Montana, North Carolina, North Dakota, and Virginia.