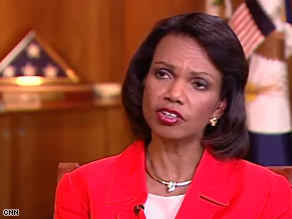 Rice said the U.S. is not softening its stance on Iran.
(CNN) - Secretary of State Condoleezza Rice told CNN Friday that the administration's decision to engage in a diplomatic dialogue with Iran did not mean it was softening its tough stand on negotiations with that country over its nuclear program.
"I am prepared to go and talk to my counterpart any pace, any time, any where. But there really must be a suspension - a verifiable suspension of their enrichment and reprocessing," she said.
The No. 3 diplomat at the State Department will meet with an Iranian nuclear negotiator in Geneva, Switzerland Saturday, in what some observers had described as a major reversal of the Bush administration's tough stance against meeting with Iran on nuclear issues – a shift Rice denied.
"I acknowledge that what we've done is to make a step that we think demonstrates to everyone our seriousness about this process," Rice told CNN's Wolf Blitzer. "But what has not changed is that the United States is determined to have negotiations only when Iran has suspended its enrichment and reprocessing. That's when the United States can join."
Rice has often been pegged as a likely vice presidential candidate – though the former Stanford University has insisted she's looking forward to a return to academic life when her stint at the helm of the State Department ends.
Watch Blitzer's full conversation with Rice on Late Edition this Sunday, starting 11 a.m. ET.