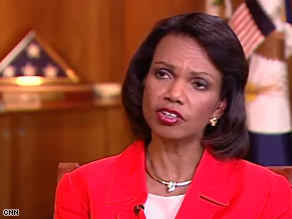 Rice says she has no interest in being vice president.
(CNN) - Secretary of State Condoleezza Rice said she knows who she's voting for in the presidential election, but she's keeping quiet about her pick.
"Have you decided who to vote for?" CNN's Wolf Blitzer asked in an interview that aired Sunday on "Late Edition."
"Wolf, uh, yes," Rice said.
Asked if she wanted to share her decision, Rice simply responded, "No."
In the wide-ranging interview, Rice praised Sen. Barack Obama's campaign and said having him as the Democratic presidential nominee has been "great for our country."
"I do think it says that we've come a long way," she said when asked to respond to comments from her predecessor Colin Powell, who congratulated Obama for knocking down barriers for African Americans.
"It's interesting that it's from Colin Powell. He knocked down a few barriers of his own. He knocked down the barrier of Chairman of the Joint Chiefs of Staff. He knocked down the barrier to the first black Secretary of State.
"Yes, I've knocked down a few too. It just shows that our country has been doing this for a while, and it's great that this last barrier, perhaps, has also come down."
Rice also made clear that she has no desire to be vice president.
Rumors of a John McCain-Rice ticket were prevalent in April after Dan Senor, a leading Republican strategist, suggested that she was mounting a behind-the-scenes campaign to be McCain's No. 2
"I tell everybody who will listen … look, I've done my part, and I've got six months to sprint to the finish, and then I have other things that I want to do," she said.
Following the end of her term, Rice said she wants to write a book about American foreign policy.
"There are issues that have come to concern me greatly - some that I was concerned about before I came here, like the state of education in the United States - which I think is at the root of our competitiveness. It's at the root of our confidence, and therefore it's at the root of our international leadership," she said.
"I'll go back and work on issues like that and it will be time for somebody else to take the stage."