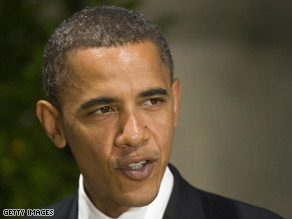 Obama's campaign manager briefed House Democrats Wednesday.
(CNN)– Sen. Barack Obama's campaign manager David Plouffe briefed House Democrats Wednesday on the campaign's strategy to win the White House and bolster the Congressional Democrats' majority in November.
According to several Democrats who attended the closed door meeting, Plouffe explained the campaign's plan to enlarge the electoral map by committing resources to states that have traditionally voted Republican.
Rep Jan Schakowsky, D-Il, a national co-chair Obama's campaign, said Plouffe explained "various ways to get to 270 electoral votes." He gave a power point presentation with an analysis of the 18 states the campaign sees as the key battlegrounds.
One Democratic Congressional aide who attended the meeting said Plouffe's message was that "the campaign is not relying on a handful of states on November 4th to win." Plouffe told the House Democrats Obama intends to compete in a number of GOP-leaning states, including Alaska, Montana, Georgia, North Dakota, and North Carolina. Other battleground states on Plouffe's list are Colorado, Nevada, Wisconsin, Michigan, Iowa, Missouri, Pennsylvania, Ohio, Florida, New Hampshire, Virginia, New Mexico, and Indiana.
Plouffe also reported the campaign had 1.8 million total donors, a million volunteers, and over 5 million email addresses. Noting that Plouffe once ran the Democratic Congressional Campaign Committee, Schakowsky said he made the case that coordinating resources on the ground with Obama supporters will help Democratic House candidates.
According to several Democrats in the meeting, Plouffe also showed polling data demonstrating that Obama is picking up support among women and Hispanics, two groups that were more closely aligned with Senator Hillary Clinton,D-NY, during the primaries.
Rep. Carolyn McCarthy, D-NY, who supported Clinton, noted "his numbers are definitely coming up" among women, but said Obama needs to continue to reach out to female voters.
House Majority Leader Steny Hoyer, D-Md, called the numbers of volunteers "unprecedented," noting there were already about 300,000 in Maryland. Hoyer told reporters Obama will be a plus for candidates in every region, "I can't imagine there's a district where he's not going to be helpful."
McCarthy said she was surprised at the number or people the campaign was contacting, including lists of unregistered voters. "I didn't realize the extent of volunteers and money they have, especially in the South and Midwest."
Rep Diana DeGette, D-Co, who represents the convention host city of Denver, gave members an update on the plans for the Democratic National Convention. DeGette said "fundraising is going better now that we have a nominee."
Democrats were also briefed on ethics rules governing fundraisers and parties at the convention. House Sergeant of Arms Bill Livingood gave an overview on security arrangements for Denver.