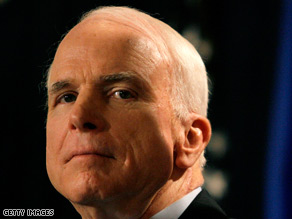 Sen. John McCain's campaign is doing what it can to counter the publicity from Sen. Barack Obama's trip.
(CNN) - Sen. John McCain sharpened his attacks against Sen. Barack Obama on Thursday, saying he'd rather give a speech in Germany as president than as a presidential candidate.
Obama was in Berlin for the latest leg of an international trip intended to bolster his foreign policy credentials at home and set out his vision for a new era of transatlantic cooperation.
Watch: McCain says he'd prefer to speak in Germany as President
McCain was campaigning Thursday in Ohio, focusing on health care.
Speaking to reporters outside Schmidt's Restaurant and Banquet Haus, a German eatery in Columbus, Ohio, McCain responded to Obama's Berlin speech, which attracted large crowds at the Victory Column.
Watch: McCain discusses Obama's Berlin speech
"Well, I'd love to give a speech in Germany ... a political speech or a speech that maybe the German people would be interested in," he said. "But I would much prefer to do it as president of the United States rather than as a candidate for the office of the presidency."