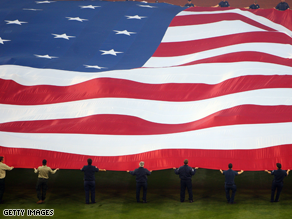 A new poll shows a racial divide over Americans' views on whether conditions in this country have improved for black men.
(CNN) - Although blacks and whites agree that conditions have improved for African-American women over the past decade, there are very different views on the status of black men, according to a CNN/Essence Magazine/Opinion Research Corporation poll released Thursday morning.
According to the new poll, while 60 percent of whites think that conditions have improved for African-American men in the last 10 years, only 35 percent of blacks agree. Nine percent of whites and more than a third of blacks say conditions have worsened for African-American males in the same time period.
There is greater optimism about the past 40 years, but the gap remains the same - 85 percent of whites and only 58 percent pf blacks think that conditions have improved for black men since 1968.
Conversely, a majority of both races believe black women have made progress over the last decade, and especially since 1968. The survey shows 65 percent of blacks and 70 percent of whites say conditions have improved for black women since 1998 while 75 percent of blacks and 87 percent of whites say life has improved for black women over the last 40 years.
The poll results are part of a CNN special report hosted by Soledad O'Brien, Black in America: Stories of success, struggle, pain and pride. The special airs on CNN Wednesday and Thursday night, 9 p.m. ET.
When it comes to media's treatment of African-American men, just a quarter of blacks think the media treats them fairly. That compares to close to 60 percent of whites who say the media treats black men fairly.
Both races believe rap music has been a bad influence for African-American men: 68 percent of blacks and 72 percent of whites say rap has negatively affected that demographic.
Meanwhile, when it comes to interaction between the two races, close to 60 percent of blacks report they have daily contact with whites; by contrast, 39 percent of whites say they have daily contact with blacks.
"Do not take this as evidence that whites who live close to blacks avoid contact with them," CNN Polling Director Keating Holland said. "These results may simply be a function of the fact that many whites live in areas where few or no blacks live, such as Appalachia, the Great Plains or the Rocky Mountain states."
Whites are also more likely than blacks to report the same phenomenon in their neighborhoods, their workplaces, and in local schools. But when it comes to churches, blacks and whites say in roughly equal numbers that their church is comprised mostly or entirely of people of the same race.
"The old adage that Sunday is the most segregated day of the week may still be true in the U.S.," Holland said.
The poll was conducted March 26-April 2 and carries a margin of error of plus or minus 2 or 3 percentage points depending on the question. 1,014 blacks and 1,001 whites were surveyed.