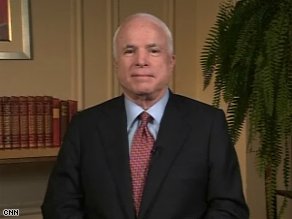 John McCain talks to CNN's Wolf Blitzer Friday.
DENVER, Colorado (CNN) - John McCain on Friday defended his criticism that Barack Obama would rather "lose a war in order to win a political campaign," saying that to his Democratic rival, the war in Iraq is "just another political issue."
"I am accusing, I am stating the facts. The facts are that I don't question Sen. Obama's patriotism. I'm sure that he's a very patriotic American," he said in an interview from Denver, Colorado, where is making a speech and will later meet with the Dalai Lama.
"I question his judgment because he lacks experience and knowledge, and I questioned his judgment. ... Sen. Obama just views this war as another political issue, which he can change positions," McCain said.
McCain argued that Obama opposed the surge and doesn't "understand the importance of this victory and the consequences of failure and the benefits of success."