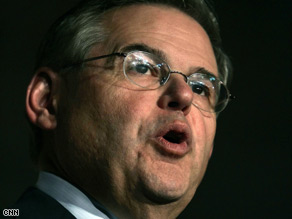 Senator Menendez discusses housing bill.
(CNN) - New Jersey Democrat Robert Menendez is a member of the Senate Banking, Housing and Urban Affairs Committee. After considerable delay, the bill to aid homeowners who are facing foreclosure because of significant jumps in the their "sub-prime" mortgage rates, will almost certainly pass the Senate Saturday morning. The White House says President Bush will sign it, despite his objections of $4 billion included that would allow distressed communities to buy up foreclosed homes.
Menendez talks about that issue and the fact it is difficult to get an actual cost on the bill, because it allows struggling borrowers to refinance under Federal Housing Administration-backed loans, but in a standard mortgage format (as opposed to sub-prime). Tacked on as well, is the idea the Treasury Secretary can help Fannie Mae and Freddie Mac, as needed, at a time when the two companies' stocks have dropped significantly.
Listen: Menendez talks to CNN Radio about the housing bill