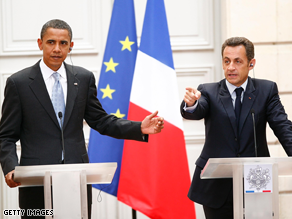 Obama and Sarkozy held a press conference Friday.
PARIS, France (CNN) - Sen. Barack Obama said Friday he was avoiding criticizing President Bush on his trip through Europe.
Speaking to reporters, the Democratic presidential candidate cited a tradition that "you don't criticize a sitting president while overseas," adding that "it's very important" that U.S. foreign policy is presented "in one voice."
"I can say affirmatively an effective U.S. foreign policy will be based on our ability not only to project power, but also to listen and to build consensus. And the goal of an Obama administration in foreign policy would be, obviously to act on behalf of the interests of the security of the United States, but also to listen to our allies," he said.