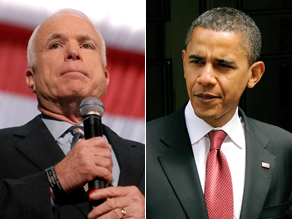 Obama and McCain are talking the economy.
The nation's economic woes take center stage this week on the campaign trail.
Barack Obama plans a round-table discussion with his top economic advisor later Monday in Washington. According to the campaign, Warren Buffett, former Fed Chairman Paul Volcker, former Treasury Secretary Robert Rubin, AFL-CIO President John Sweeney, SEIU Secretary-Treasurer Anna Burger, and Google Chairman and CEO Eric Schmidt will participate in the event.
Ahead of that meeting, some of John McCain's top economic advisors held a conference call with reporters to tout the Arizona senator's "Job's for America" plan. That call included Harvard Professor Martin Feldstein, Stanford Professor John Taylor, Ebay CEO Meg Whitman and former Hewlett Packard CEO Carly Fiorina.
Listen: Obama advisors discuss McCain's job plans

Related from CNNMoney.com: Record 2008 deficit – Bush official