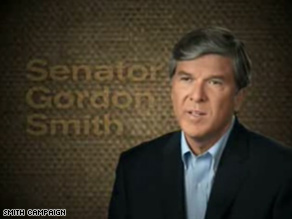 A new ad from Gordon Smith's campaign stresses his work with Barack Obama.
(CNN) - Republican campaigns have launched a slew of ads this year looking to tie Democratic congressional candidates to Barack Obama. Now the Illinois senator's name is making another appearance in a new GOP spot this week - the second ad from Oregon Senator Gordon Smith that stresses his own working relationship with the presumptive Democratic nominee, and with Massachusetts Senator John Kerry.
"Times are tough. Rising prices on gas, food, health care. Families need help. That's why I choose to reach across the aisle," says Smith in the new spot. "With John Kerry to protect homeowners from foreclosure, with Barack Obama for better gas mileage. And when President Bush tried to cut Medicaid, the Oregon health plan, I said no. What matters is helping people, not who gets the credit."
Last month, Smith plugged his work with the Illinois Democrat to push for stricter mileage standards for automobiles.
Smith may be highlighting his ties to Obama - but he can't boast a nod from his Senate colleague, who supports Democratic opponent Jeff Merkley.