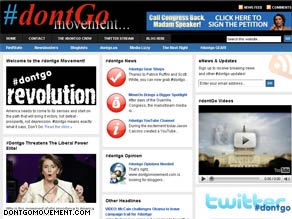 Online activists on the right launched a new Web site Tuesday.
(CNN) – A group of conservative online activists launched a new Web site Tuesday to support a call by House Republicans to reconvene Congress and vote on an energy bill.
The site, dontgomovement.com, is intended to be a clearinghouse for information about a protest House Republicans began Friday soon after Congress adjourned for its August recess. Instead of heading home to their districts, some House Republicans have remained in Washington and taken to the floor of the House to protest Congress' failure to act on an energy bill.
"They provided the spark but we were the energy that was already out there," Patrick Ruffini, a founding editor of the conservative Web site thenextright.com, said on a conference call with fellow online activists Tuesday afternoon.
More than 1100 people have signed up for an e-mail distribution list associated with the site since a preliminary splash page for it went up on the Internet Monday, according to Eric Odom, one of the organizers behind dontgomovement.com.
Support for House Republicans has also been active on Twitter, an online micro-blogging service composed of short text messages. The tag "#dontgo" set up by Odom and Ruffini and other activists late last week is currently one of the most popular topics being tracked on search.twitter.com. In addition to the new Web site, Rep. Eric Cantor of Virginia has launched an online petition which has garnered more than ten thousand online signatures so far, according to information available on callbackcongress.com.
The House GOP protest has caught the attention of liberal group MoveOn.org. The powerful liberal lobbying group is scheduled to hold a rally on Capitol Hill late Tuesday afternoon.
Former House Speaker Newt Gingrich, who led the Republican effort to take control of Congress in 1994, has also announced he will be meet and hold a press conference with House Republicans Wednesday at the Capitol.