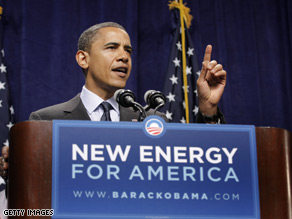 Obama teased McCain on drilling Tuesday.
YOUNGSTOWN, Ohio (CNN) –- Barack Obama continued to slam John McCain's energy policy Tuesday, attacking his opponent's focus on oil drilling and mocking his Monday comments that "we need to drill here, and we need to drill now."
Watch: Obama teases McCain
"Instead of offering a real plan to lower gas prices, the only energy plan that he's really promoting is more drilling," Obama told supporters at a town hall meeting in Ohio, on the second day of a week of energy-themed events. "That's what he talked about yesterday. I want to drill here. I want to drill now. I don't know where he was standing. I think he was in a building somewhere."
CNN Election Center: Where do the candidates stand on energy policy?
"This plan will not lower prices today, it won't lower prices during the next administration," Obama continued. "The truth is we wouldn't see a drop of oil from John McCain's plan for at least seven years."
Though Obama supported last week's proposed "Gang of Ten" bi-partisan energy plan that includes an element of off-shore drilling, the Illinois senator has continued to rail against it and McCain and his campaign have been sure to remind voters. A recent CNN/Opinon research poll showed 69 percent of Americans support off-shore drilling.
Listen: The McCain campaign slams Obama's energy policy on a Tuesday conference call
The McCain campaign quickly fired back. "While Americans are hurting, Barack Obama is opposed to off-shore drilling, and is also opposed to admitting that he voted for the same corporate giveaways for Big Oil that he's campaigning against today," wrote McCain spokesman Tucker Bounds. "It underscores that Barack Obama isn't being straightforward with voters and has the bad judgment Americans can't afford right now."
Obama outlined the energy proposals he put forward in a major speech Monday, including the ambitious goal of eliminating imports of oil from the Middle East and Venezuela within ten years.
"I know that there's going to be all kinds of discussion," said Obama. "John McCain wants to talk about Paris Hilton and Britney Spears. That's his idea of a really relevant campaign. But I don't have time to deal with that mess."
"We can watch helplessly as the price of gas rises and falls because of some foreign crisis we've got no control over," he added, "and uncover every single barrel of oil buried beneath John McCain's feet only to realize we don't have enough for a few years much less for a century."