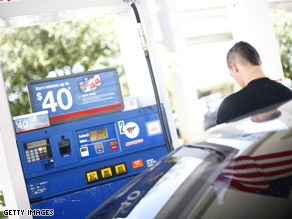 The economy is a bigger concern than the war in Iraq in the latest CNN poll.
(CNN) - The economy is still issue number one for Americans this election cycle - significantly outweighing the war in Iraq, immigration and health-care reform.
According to the latest CNN/Opinion Research Corp. poll, 48 percent of those surveyed said John McCain and Barack Obama's economic policy would be the most important issue when deciding who to vote for this fall.
Watch: Poll findings translate differently for McCain and Obama
But when it comes to who is the better choice to fix the economy, Obama is their pick by a 54-43 percent margin .
CNN Election Center: Where do the candidates stand on economic stimulus?
In a November poll, 29 percent of Americans said the economy was their top concern and the war in Iraq was a close second at 28 percent.
But in the latest poll, conducted from July 27 through 29, only 18 percent ranked the war as their top concern and health care was close behind at 13 percent.
CNN Polling Director Keating Holland said that gas prices are partially to blame for the nation's shift toward the economy as the top issue.
"This time last year, most people thought the presidential election would be all about the war in Iraq," Holland pointed out. "But starting in December, the economy has been a bigger issue than Iraq. And when gas prices started going through the roof, the number of voters who said the economy was their number-one issue jumped to nearly half."
CNN Election Center: Where do the candidates stand on the Iraq War?
The most recent poll on gas prices, also conducted July 27-29, showed 75 percent saying the price of gas was a financial hardship and 52 percent saying the price of gas will never go down.
CNN's latest findings are based on phone interviews with 1,041 Americans, and has a sampling error of plus or minus 3 percent.