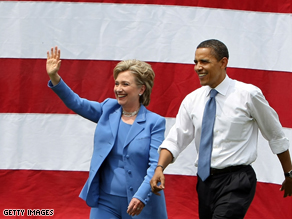 Associates of Clinton's say she remains skeptical that Obama can win in the fall.
Hillary Clinton apparently hasn't gotten the message yet that it's over.
She's now trying to find a way for her delegates to be heard at the Convention, saying it will help unify the party. And, she hasn't ruled out having her name placed into nomination.
Clinton told supporters at a California fund-raiser last week that the party will come out stronger if people feel their voices were heard. She spoke of an "incredible pent up desire" on the part of her supporters, saying people want to feel like it's "a catharsis" and then they'll get behind Barack Obama. It's beginning to sound like group therapy.
To read more and contribute to the Cafferty File discussion click here