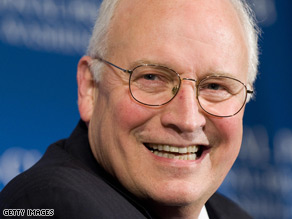 Vice President Cheney will speak at the GOP convention in September.
WASHINGTON (CNN) - The campaign camp of GOP presidential candidate John McCain has invited Vice President Dick Cheney to speak at the Republican National Convention, a spokeswoman said.
There had been concerns that Cheney had not been invited to address the gathering.
Cheney spokeswoman Megan Mitchell said it is likely Cheney will speak on the first night of the convention, but the exact day and time haven't been set.
The convention will be held September 1-4 in Minneapolis-St. Paul.
"The vice president looks forward to participating in the Republican national convention and continuing to work for the election of Senator McCain and other Republican candidates in the coming months." Mitchell said.