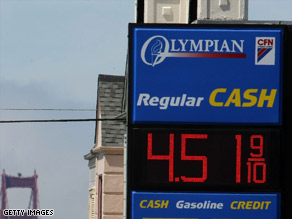 Voters are focused on the continuing pain at the pump.
WASHINGTON (CNN) - Kentucky Sen. Mitch McConnell blames challenger Bruce Lunsford for the increase in the state's gas tax. Michigan Rep. John Dingell pledges to stop price gouging and rein in energy speculators.
And Oklahoma Corporation Commission candidate Rob Johnson expressed empathy for families feeling pain at the pump.
It is not just Sens. John McCain and Barack Obama who are trying to convince voters this year that they have the answers to ease the nation's reliance on foreign oil.