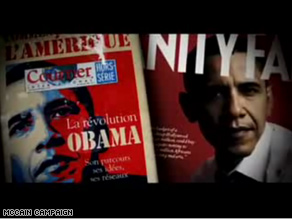 McCain's campaign released a new ad called 'Painful' Friday.
(CNN) - John McCain's campaign released another ad Friday that paints Barack Obama as an out-of-touch celebrity.
"Life in the spotlight must be grand, but for the rest of us times are tough," says the announcer, as flashbulbs pop around Obama, crowds cheer, and magazine covers bearing his portrait flash on-screen.
"Obama voted to raise taxes on people making just $42,000. He promises more taxes on small business, seniors, your life savings, your family. Painful taxes, hard choices for your budget. Not ready to lead. That's the real Obama."
Watch: McCain's new ad called 'Painful'
Last month, the McCain team gave a slightly different figure than the one used in Friday's new ad. "If you make over $32,000 per year, Barack Obama has voted to raise your taxes," wrote McCain chief policy adviser Doug Holtz-Eaken in a campaign memo sent to reporters.
The non-partisan Factcheck.org has pointed out that Obama's vote was on a non-binding resolution on the Bush tax cuts that did not have any actual effect on tax rates. Obama himself has said he supports extending the tax cuts on lower income levels, but would let those for the richest Americans expire.
The new ad - "Painful" - is being cycled in to the campaign's ad buy in the battleground states of Colorado, Iowa, Michigan. Missouri, Nevada, New Hampshire, New Mexico, Ohio Pennsylvania, northern Virginia, and Wisconsin.
UPDATE: The Obama campaign said Friday the new McCain ad was "a lie, and it's part of the old, tired politics of a party in Washington that has run out of ideas and run out of steam.
"Even though a host of independent, nonpartisan organizations have said this attack isn't true, Senator McCain continues to lie about Senator Obama's plan to give 95% of all families a tax cut of $1,000, and not raise taxes for those making under $250,000 a single dime. The reason so many families are hurting today is because we've had eight years of failed Bush policies that Senator McCain wants to continue for another four, and that's what Barack Obama will change as President."