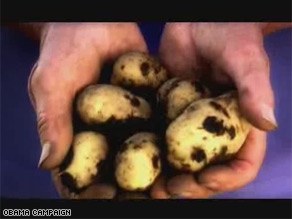 Obama's campaign released a new ad Friday called 'Hands.'
(CNN) - Barack Obama's campaign has released a new TV ad stressing his "green jobs" policy proposals.
"The hands that built this nation can build a new economy," says the announcer in the 30-second spot. "The hands that harvest crops can also harvest the wind. The hands that install roofs can also install solar panels. The hands that build today's cars can build the next generation of fuel-efficient vehicles.
"Barack Obama. A new vision for our economy. Fast track alternative fuels. Create five million jobs developing home-grown energy technologies because America's future is in our hands," he concludes.
The ad is the first from Obama's campaign that is slated to run during its massive Olympic Games ad buy.