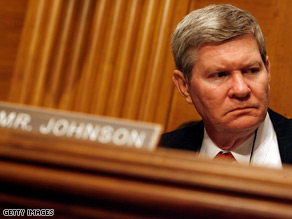 Sen. Johnson says he won't participate in fall debates.
WASHINGTON (CNN) – Despite saying he is able to handle "100 percent" of his senatorial duties, Sen. Tim Johnson Friday said he would not participate in debates this fall due to lingering effects from a stroke.
Johnson suffered a stroke in December 2006, which forced him to temporarily leave the Senate. He returned in September 2007.
"I have been open and honest about my recovery," the South Dakota Democrat said in a statement. "While my speech continues to improve it is not yet 100 percent, and I have not yet reached a point in my rehab where my participation in a debate would accurately reflect my capabilities.
"Therefore I will not participate in traditional political debates during this campaign," the Democrat said.
The two-term senator is up for reelection this fall. His Republican challenger is Joel Dykstra, the assistant majority leader of the South Dakota House of Representative. In 2002, Johnson narrowly beat out now Sen. John Thune, R-South Dakota, by 524 votes.
Despite declining to debate Dykstra, Johnson said he was completely capable of fulfilling his Senate duties, saying he had not missed a single vote since returning to the Senate last year and chaired and attended committee and sub-committee hearings.