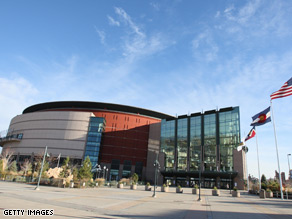 The Democratic Convention will be held at the Pepsi Center in Denver, Colorado.
(CNN)—The Democratic National Convention Committee unveiled the four nightly themes of the Democratic convention Monday.
Kansas Gov. and Democratic National Convention Committee co-chair Kathleen Sebelius announced in a Monday conference call with reporters that the convention is being termed "America's Town Hall" - individuals will be able to submit questions by e-mail or Web video. Those questions may be answered by one of the convention's speakers.
On Monday, Michelle Obama will kick-start the convention at the Pepsi Center in Denver, Colorado with a "One Nation" speech emphasizing unity. Tuesday's agenda - "Renewing America's Promise" - will feature Senator Hillary Clinton.
On Wednesday, Obama's vice presidential pick will deliver his or her acceptance speech – and former President Bill Clinton will address the gathering - as the focus turns to "Securing America's Future," and a salute to the nation's veterans.
Listen: Democrats lay out their convention plans on a conference call with reporters
On Thursday, Obama will officially accept his party's nomination in front of more than 60,000 spectators at Invesco Field at Mile High. The familiar theme: his campaign slogan, "Change You Can Believe In."
In 2004, Obama—then a relatively unknown candidate for U.S. Senate - was catapulted into the limelight when he delivered the keynote address at the Democratic Convention in Boston.