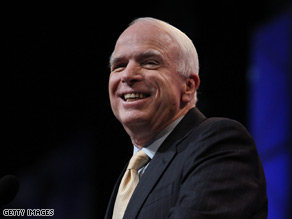 New Jersey Mayor Richard Gerbounka will endorse McCain Monday.
(CNN) - Sen. John McCain will get an endorsement Monday afternoon in New Jersey from a Democrat-turned-Independent, Linden Mayor Richard Gerbounka, according to two Republican sources.
McCain advisers are eager to tout the endorsement as the Senator continues to try and show he has crossover appeal as a "maverick," though Gerbounka is clearly not a household name.
Gerbounka, whom Mc Cain advisers describe as a lifelong former Democrat, was elected in 2006 as an Independent. His move to back McCain comes as the Senator ramps up efforts to appeal to independent voters.
New Jersey is one of several battleground states that McCain and Sen. Barack Obama are both pushing hard to win. A recent CNN analysis finds Obama has the edge in the state.