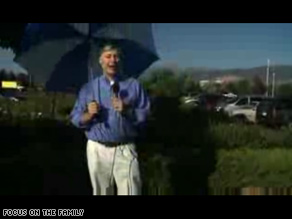 Does focus want the Almighty to rain on the Democrats' parade?
(CNN) - Last month, Colorado Springs-based Focus on the Family posted a video on its Web site calling on Christians to "pray for rain" to disrupt Barack Obama's acceptance speech at the upcoming Democratic convention in nearby Denver. Weeks later, their efforts did result in a deluge – the flood of criticism and news coverage that accompanied their decision to take down the video.
Focus officials insist the video - narrated by the man in charge of Web operations for the group's political wing - was intended as a joke, and not a request for any divinely-inspired weather patterns.