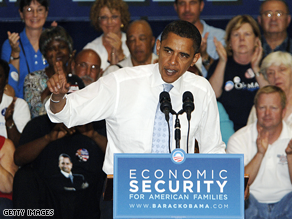 The Obama campaign is seeking to top the two million donor mark.
(CNN) - Barack Obama's campaign manager said Monday John McCain's now-famous Paris Hilton/Britney Spears television ad wasn't just insulting to the Illinois senator, but to his campaign's legion of supporters as well.
And in an e-mail to those supporters Monday, campaign manager David Plouffe is hoping a backlash from that television spot will push Obama over the two million individual donor mark by the party's convention at the end of August - only six months after the campaign topped one million donors.
"While supporters like you are out knocking on doors, registering new voters, and organizing in your local communities, our opponents are not even trying to match your efforts. Instead, they're spending millions to spread the smear that Barack is just a 'celebrity' and that our grassroots movement is just a bunch of mindless fans," Plouffe wrote in the e-mail in what is one of his harshest assessments to date of McCain's 'Celebrity' ad.
"Two million donors is an incredible number - a number that was previously unimaginable for presidential campaigns," he also wrote. "And it's a number this campaign never dreamed we could reach before the convention."
Obama surpassed one million donors in late February, a number the campaign said then was one "no one ever thought would be possible." As of the end of June, the most recent fundraising figures available, Obama had raised nearly $340 million for his presidential bid.
A steady fundraising clip is especially important for Obama, who earlier this summer backed off his onetime pledge to enter into public financing - and the spending caps that come with it - in the general election campaign.
Justifying his reversal on that pledge, Obama cited his vast donor list and said his campaign was fueled mainly by small contributions. Though the New York Times reported last week close to a third of the Obama campaign's fundraising receipts has come from donors who gave $1,000 or more.