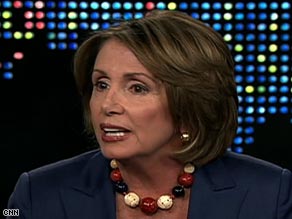 Speaker Pelosi condemned Russian military action in the Republican of Georgia Monday.
(CNN)—Amidst growing talk of U.S. intervention in the Republic of Georgia, House Speaker Nancy Pelosi urged Russia again to sign and honor a cease-fire Monday night, while condemning the country's military action.
"What the Russians did is really outside the circle of civilized behavior," Pelosi told Larry King. "You don't just roll your tanks and airplanes into another country and expect people to sit back and say, 'that's okay'."
Following the outbreak of violence in Georgia last week, Pelosi issued a statement condemning Russian military action.
"The sooner Russian military action ceases, Russian forces are withdrawn, and Georgia's borders are respected," Pelosi said in a statement on August 9. "The sooner a settlement of Georgia's internal disputes can be achieved and regional security enhanced."
Related: McCain, Obama respond to Georgia crisis
Given U.S. military involvement in other war torn countries, namely Afghanistan, Pelosi said Monday she hoped the Russia-Georgia conflict could be resolved without U.S. involvement, looking toward Europeans and NATO to act as "peacekeepers," if need be.
"Georgia's borders must be protected," said Pelosi. "We must have a conversation, a diplomatic conversation in terms of NATO, more than a conversation, to resolve the issues there."
Tipping her hat to Congress and the presidential candidates, Pelosi touted their ability to speak "with one voice," on the matter.