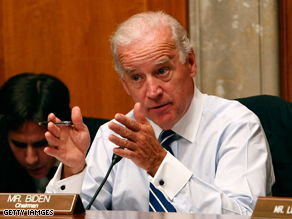 Biden is a powerful Senate ally of Barack Obama.
WASHINGTON (CNN) - Sen. Joe Biden, D-Delaware, the chairman of the Foreign Relations Committee and thought to be on Barack Obama's short list for vice president, is headed to Georgia Saturday night.
His spokesman, Elizabeth Alexander said, "At the request of Georgian president (Mikhail) Saakashvilli, Chairman Biden is heading to Georgia this weekend. He is leaving this evening and will be there Sunday."
No other Senators are traveling with him.
In a statement, his office said he will meet President Saakashvili, Georgian Prime Minister Lado Gurgenidze, and U.S. Ambassador to Georgia John Tefft. He also will meet with residents who fled the fighting.
Biden said in the statement, "I am going to Georgia this weekend to get the facts first-hand and to show my support for Georgia's people and its democratically-elected government. I look forward to reporting to my colleagues in the Senate and on the Foreign Relations Committee, as well as the Administration, about what I learn."