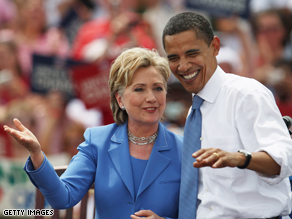 The Cafferty File: Join the conversation.
Yet another sign that Hillary Clinton is doing her dead-level best to take title to the Democratic National Convention.
In addition to the laundry list of concessions she has already wrung out of Barack Obama, Bill and Hillary Clinton plan to use the convention to raise money to pay off more of her campaign debt from the primaries.
Hillary Clinton has announced she will award one lucky donor a trip to the convention – with her. And in case that's not incentive enough, Bill Clinton sent an e-mail to potential contributors promising a memorable week with his wife.
To read more and contribute to the Cafferty File discussion click here